Meet Our Specialists
At Alaska Avenue Dental, we do our best to provide our patients with the dental care they deserve. Our visiting specialists offer endodontic and periodontal services.
---
Dr. Joel Fransen, Endodontic Specialist
Dr. Joel Fransen was a classmate of Dr. Robert Myers at UBC. They both received their dental degrees from UBC in 1998. Upon graduation Dr. Fransen worked as a general dentist in his own practice on Vancouver Island until 2004.
While applying to post-graduate endodontic programmes he then worked as an associate dentist in Kelowna. In 2005 he attended the Post Graduate Program in Endodontics at Baylor College of Dentistry, Texis A&M Health Science Centre in Dallas. In 2007, he returned to British Columbia where he works as an associate endodontist at the EndoGroup Port Coquitlam Office.
In 2010 Dr. Fransen opened his own office, the Richmond Endodontic Centre. In 2011 Dr. Fransen was the first endodontist to be recognized in the Yukon Territory. He travels to Whitehorse once every other month to provide endodontic care to those north of 60.
Dr. Fransen has many years of experience in general dentistry and the specialty of endodontics. He strives to compliment the restorative goals you have for your patients by providing orthograde retreatment, treatment of challenging teeth and anxious patients, as well as endodontic microsurgery.
When not working, Dr. Fransen is an avid skier as are his wife and three children. They hit the slopes whenever possible. He also enjoys cycling, he will be participating in the GranFondo, Whistler again this year as well as the Ride to Conquer Cancer.
---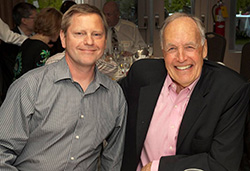 Dr. Hannu Larjava, Periodontic Specialist
Dr. Larjava graduated from the University of Turku , Finland, in 1978 (DDS) and earned his PhD from the same institution in 1984. He then specialized in periodontics (1987) and moved to the NIH for a postdoc at the National Cancer Institute, supervised by Dr. Kenneth Yamada.
Dr. Larjava was then invited to the University of Alabama in Birmingham where he spent 1.5 years as an Associate Professor performing research work and clinical teaching. After a short time in Finland, Dr. Larjava was appointed as the Chair, Division of Periodontics and Director, Graduate Periodontics at the University of British Columbia in 1993. He has an active research interest in the functions of keratinocytes in wound healing and in periodontal proteoglycans.
---
Full-Family, Full-Life Dental Care
At Alaska Avenue Dental, we are here for you and your family... for life. Whether you simply need a regular check-up and hygiene, you believe you need a filling or crown, or you or your children may need orthdontic care, we are your one-stop dental practice in Fort St. John, BC.
General Dentistry  Cosmetic Services  Orthodontics  Dental Implants 
Tips for a Healthy Smile from the Alaska Avenue Dental Team

Sugar plays a big role in the development of cavities. Avoid foods with 'hidden' sugars, like crackers, processed food, and milk. Brushing twice daily, swishing with water or chewing sugarless gum after meals can reduce the harmful of effect sugar on your teeth.