Dental Implants in Fort St. John
If you or a family member are missing teeth or need to secure your denture, our dentists can replace them with dental implants.
---
What are dental implants?
Dental implants are artificial tooth roots made from titanium. The titanium implant is placed into the jawbone and left to heal until it has fully integrated into the jaw. This period can take several months. When the implant is stable it will act as an anchor to hold the crown or denture in place.
Regardless of your needs, they can be used to replace a single missing tooth or multiple teeth. In addition to improved appearance, there are many advantages of dental implants.
What are the advantages of dental implants?
Eliminates further bone loss
If your teeth are missing in your jaw, the bone may slowly disappear. With dental implants, it will stimulate the bone in your jaw, allowing your body to maintain the bone in the area - acting similar to natural teeth.
Similar function
Implants will act and feel like natural teeth. While eating, your implants will function similar to your other teeth, making the whole experience positive.
Gum disease
Dental implants can give you a second chance at healthy gums. Patients who have lost some of their teeth due to gum disease, have had their teeth restored with implants. Once our dentists remove the damaged teeth, the affected area will improve. We recommend maintaining the life of your implants through established oral care routines at home in addition to regular check ups.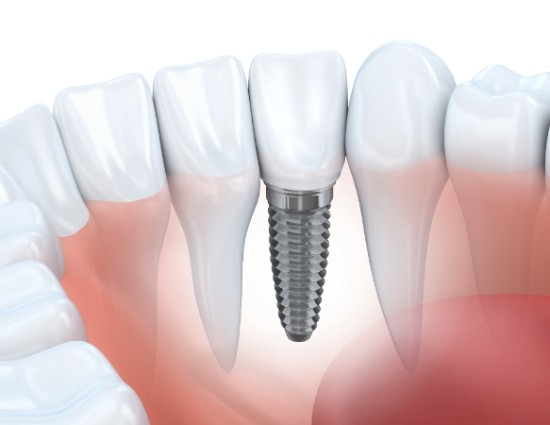 ---
For more information on our dental implants, or how you can get them, contact our office today! Request Appointment
---
Full-Family, Full-Life Dental Care
At Alaska Avenue Dental, we are here for you and your family... for life. Whether you simply need a regular check-up and hygiene, you believe you need a filling or crown, or you or your children may need orthdontic care, we are your one-stop dental practice in Fort St. John, BC.
General Dentistry  Cosmetic Services  Orthodontics  Dental Implants 
Tips for a Healthy Smile from the Alaska Avenue Dental Team

Sugar plays a big role in the development of cavities. Avoid foods with 'hidden' sugars, like crackers, processed food, and milk. Brushing twice daily, swishing with water or chewing sugarless gum after meals can reduce the harmful of effect sugar on your teeth.